Dial Free (or ultra cheap phone calls to Pakistan)
Free Phone calls or VOIP audio/video calls, like Skype, that is too to the internationals, is all time, a highly searched keyword on Google, Bing and Yahoo search engines.
Do you want to make free phone calls (virtually free but very low priced) to Islamabad, Lahore, Rawalpindi or anywhere in the Pakistan on their landline or mobile phones?
Localphone is
, a UK based leading provider of international phone calls, has announced it has just lowered its call rates to Pakistan until the end of the year 2011 by up to 50%.
New or existing customers of Localphone will be able to make cheap calls to Pakistan (virtually free) mobiles and landlines at the new rates until the end of the year 2011.
The new voice calls rates are effective from 2011, 1st December 12pm GMT are:
GBP: 1p per minute.
USD: 2¢ per minute.
EUR: 1.8c per minute.
The Pakistan call rates will automatically revert back to Localphone's previous rates at 12pm GMT 3rd January 2012.
The Fine Print!
The fine print states that the offer is subject to change in the event of an increase in call taxes by the Pakistani Government.
FYI:
Localphone, the mobile VOIP (mVOIP) offers a number of different ways to make calls. You can call from your mobile or landline using the Local Numbers service. If you have an iPhone you can download the free Localphone app and make calls at the same cheap prices. Free VoIP calls can be made from a computer using the Localphone Internet Phone or the customer's own VoIP compatible device.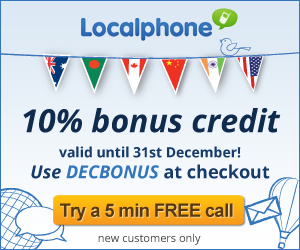 About Localphone mobile VoIP and internet calls provider:
Localphone, head quartered in Sheffield UK, was founded in 2007 by entrepreneur Paul Cusack. Localphone offers a number of services to provide cheap international calls and SMS to its fast growing global customer base.
If you would like more information about this topic, or to schedule an interview, please call 
Catherine Holley at +44(0) 114 3190538
or
email [email protected], quote: Ref. Talkfree7.