Free Phone Calls Credit Vouchers!
Hello our Global Readers!
If you haven't done so already, than right now grab bonus calling vouchers from LocalPhone,
Localphone November 2011 coupon's
Call for FREE to US from Anywhere on the Globe or from within US!
Thanksgiving promotion
for Talkfree7 readers' will be live on the
24th November, 2011
, All phone calls to US landlines and mobiles will be absolutely FREE for 4 days!
This promotion
will run from
Thursday 24th to Sunday 27th November
and includes
all standard landlines and mobiles in the US. Calls will be FREE between 5am GMT on 24th November until 5am GMT on Monday 28th November
. Normal cheap call charges apply after this offer ends.
20% Extra Bonus Coupon / Voucher/Deal:
- 20% extra credit on first time orders. For new Talkfree7 readers/customers only and gives 20% extra credit the 1st time they top up. The code is LPUSNEW, expires 30th November 2011. If a customer adds $10 they will receive $2 bonus!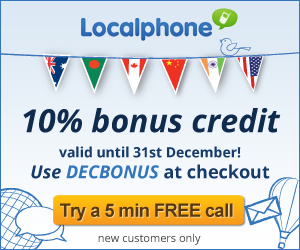 Students' cheap international calling deal:
- 100% extra credit for students. Valid for new readers/customers (students) with an academic email address. LocalPhone will give 100% extra credit on their 1st top up, to a maximum of $10.
The students be emailed a code when they sign up at the student page. This offer is ongoing. If a customer adds $10 they will receive $10 extra!
Minimum credit one can add or buy from Localphone is just $1 credit with no expiry or time limits on that call credit, credit is life time valid. And yes you may try FIRST call for free!
A quick summary of the deal: At-a-Glance:
New users can start and make a free 5 minute test call
Great call quality
Calls start at 0.5¢ per minute.
Call from your cell phone, landline or computer
International text messages from 2.7¢
Customers can add as little as $1 credit
Make VoIP calls from a computer using our Internet Phone
No hidden charges or monthly fees
Customers also earn free credit by referring friends, using their respective referral link.
See call rates to their top countries:
India 1.5¢ / min
Bangladesh 3.9¢ / min
Nigeria 6.5¢ / min
Pakistan 3.4¢ / min
China 1¢ / min
United States 0.5¢ / min
United Kingdom 1¢ / min
Kenya 6.9¢ / min
Thailand 1.5¢ / min
Black Friday Promo by Rebtel, Mobile VOIP:
Try Rebtel for free or get the Black Friday VOIP freebies
Black Friday Madness
Bookmark, email, SMS, Share this page for the benefit of all concerned!